to dig down
to spill out
to be surprised
to be me
and always beginning
News & Events
Exhibition: Saturday October 20 through January 2, 2019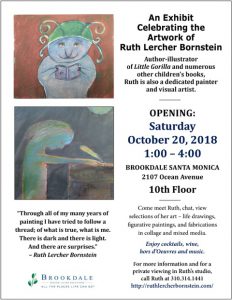 An exhibition celebrating the artwork of Ruth Lercher Bornstein
Author-illustrator of Little Gorilla and numerous other children's book. Ruth is also a dedicated painter and visual artist.
Opening:
Saturday October 20, 2018 1:00 - 4:00
Come meet Ruth, chat and view a selection of her art — original illustrations, life drawings, figurative paintings, and fabrications in collage and mixed media.